To visit Pays de Colmar is to experience the essence of Alsace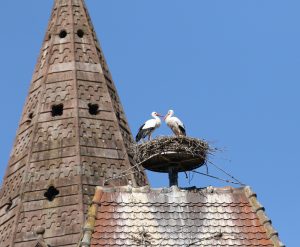 From gourmet vineyards, views of the Vosges mountains, enchanting towns and villages to the smooth banks of the Rhine: Pays de Colmar invites you to experience a warm, romantic, timeless Alsace, sparkling like the bubbles of our Crémants.
Heritage, nature, culture, art of living: under the watchful eye of the storks, which are less fierce than they may appear, Pays de Colmar will astonish you!
Meet the capital of Alsace wines
The special atmosphere of Colmar can be felt during a boat trip on the Petite Venise or a stroll in the historic centre, among half-timbered houses and geraniums.
The Capital of Alsace Wines also has a rich cultural heritage, including the Unterlinden Museum which hosts the Issenheim Altarpiece.
Discover our warm Alsatian villages
The romantic, authentic soul of Alsace is felt by discovering its villages… Éguisheim and Kaysersberg voted "France's Favourite Villages", Riquewihr, Hunawihr and Eguisheim classified among "The Most Beautiful Villages in France"… And of course, the fortifications of Neuf-Brisach, Vauban's ideal city listed as a UNESCO World Heritage Site.
Enjoy the best of Alsation gastronomy
We guarantee a gourmet Alsatian experience with the discovery of colourful markets, typical winstubs, farm meals from farmhouse inns and starred restaurants.
Enjoy Alsace Wines in their natural setting
The Alsace Wine Route will lead you from the "dry hills" of Rouffach to the Haut-Koenigsbourg hillsides. An ideal opportunity to meet the winemakers for a walk in the vineyard or a commented tasting session in the cellars or amid the vines.
Stroll on the banks of the Rhine
The Rhine river is an exceptional natural area with its islands and preserved environment. You can discover it by water, by foot or by bike. The islands of the Rhine are wintering grounds for water birds: over 60,000 birds gather there in January.
Fill up on oxygen in the Vosges Mountains
Summer and winter, outdoor sports (hiking, climbing, mountain cycling, fishing, adventure parks, sledding, skiing and Nordic skiing, snowshoeing, etc.) feature prominently in the valleys of Munster and Kaysersberg. The fauna and flora of the Vosges Mountains give shape to a warm, charming land which you can contemplate from the exceptional viewpoints along Route des Crêtes.
Alsace is vibrant in Pays de Colmar
Music festivals, wine fairs, folk festivals: every season is a celebration. Transhumance gives rise to musical and popular festivities while the fiddlers' festival (Pfifferday) in Ribeauvillé, at over 600 years old, is the oldest in Alsace and surprises visitors every year.
Experience the finest Alsatian traditions
Christmas and Easter are the highlights of the year and are underpinned by tradition. From the beginning of advent, Pays de Colmar becomes the Land of Christmas Stars with its shimmering streets, spice scents, markets and gourmet Christmas cellars.
You'll be amazed by a land as radiant as the sun: meteorologists confirm that it shines more often here than elsewhere!
Nature is undoubtedly well designed in Pays de Colmar…